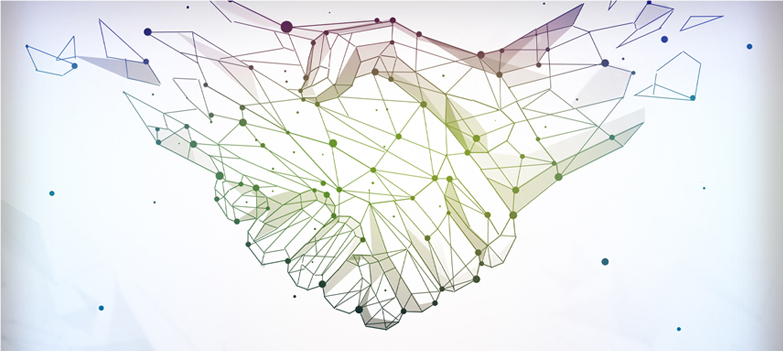 2021 – a time to reframe healthcare 
for a better, more sustainable future
January 2021 newsletter
HIV Age Positively is a disease awareness programme that has been developed and
paid for by Gilead Sciences Ltd.
As we emerge from 2020 and begin planning for the year ahead, we are faced with a mix of optimism and uncertainty about the COVID-19 landscape. However, as a community which has gone above and beyond to support the immediate needs of people living with HIV, we know for certain that the HIV community will continue to work together this year to help those affected by the pandemic.
In 2020, Gilead launched The HIV Collective as a unified source of support and inspiration for charities and patient organisations as they adapt and evolve to the 'new normal' that COVID-19 has created.
Through The HIV Collective and speaking to Future Thinkers and patient organisations, it became clear that building health literacy and organisational sustainability to protect the future of services were just some of the many issues facing the HIV community during the pandemic. Gilead Sciences remains committed to collaborating with you to provide support through these challenging times and beyond.
Healthcare is changing, and so is the way we engage and learn
As part of The HIV Collective, Dr Vanessa Apea, Consultant Physician and HIV specialist at the Barts Health NHS Trust, hosted a webinar entitled 'Changing healthcare during changing times'.
During the webinar, which focused on how HIV services are evolving in response to COVID-19, Dr Apea gave a refreshing presentation on the need for collaboration and ongoing dialogue to deliver patient care in new and innovative ways.
She also presented several pertinent insights into how people have been managing their personal health during the pandemic. Many people have been actively engaging in their personal HIV health throughout COVID-19, with many who were previously disengaged from care returning voluntarily to seek treatment. However, one of the biggest difficulties with COVID-19 has been the expectation of individuals to manage many aspects of their health independently. Additionally, it is a big ask for individuals to try to process the daily influx of new information and data surrounding COVID-19 (which has come from multiple sources, including Governments, media outlets, the internet, friends and family), and evaluating that information and how it could possibly impact them.
Dr Apea argued that improving wider health literacy, the degree to which individuals have the capacity to obtain, process, and understand basic health information and services needed to make appropriate health decisions,1 is crucial to protecting everyone's health in future, and that services need to adapt to understand and reflect health literacy in order to best serve the people they're aiming to support.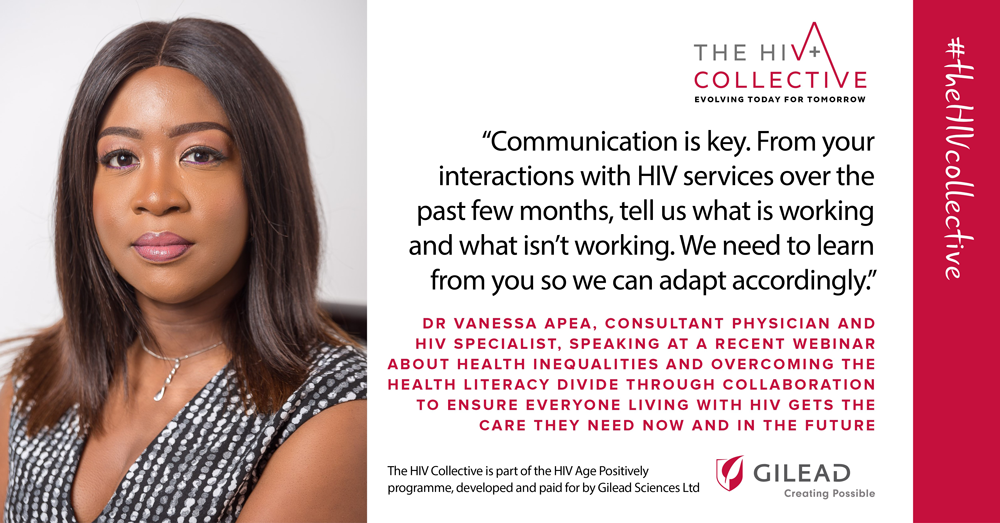 If you weren't able to join Dr Apea's webinar, or are keen to refresh your memory on any of the content, you can download a video and audio recording of the webinar here.
Notably, people looking to build their health literacy are increasingly relying on online sources to obtain information about medicine and health services. For instance, it was claimed last year that Google receives one billion health-related questions every day.2 However, many people, particularly older generations as well as those from marginalised and the poorest communities, do not have access to technological hardware or may not have the digital literacy to do so.3,4 Although the number of adults who have either never used the internet or have not used it in the last three months has been declining in recent years, in 2018 it was estimated that there were still 5.3 million adults in the UK in this situation.4 This effect is known as the digital divide, and the inequality it generates has a wide ranging impact, including on day-to-day life, access to educational and cultural resources, social connections and access to healthcare.5
We are living in an increasingly digital world
Digital inequality is particularly pertinent at present due to COVID-19; UK health services have embraced digital health with pace and at a scale that has not previously been seen before.5 This is despite the fact that, when asked to describe the current state of digitalisation in the UK prior to the pandemic, the majority of responses from clinicians working in primary healthcare were predominantly negative, describing digitalisation as slow, expensive and challenging.6 Even so, NHS England and NHS Wales are continuing to support the movement of primary care pathways towards a digital first approach - whereby patients access advice, support and treatment in a 'more convenient manner' using digital and online tools - indicating a sustained trend towards digitalisation which may last well beyond COVID-19.7,8
Building on Dr Apea's webinar and insights from HIV patient organisations on the digital challenges they and their members have experienced, we ran a second webinar covering the impact of COVID-19 on digital health inequalities. This included the intersectional challenges experienced by those who do not have access to digital tools or skills, the importance of building digital literacy in current environment and how this links to being able to effectively engage in health and social services now and in the future. You can download a video and audio recording of this webinar here.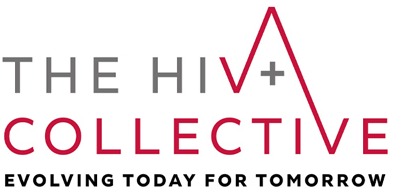 Sustainability is the capacity of an organisation, service or system to make a lasting difference9
Since the start of the pandemic, HIV charities and patient organisations have seen a huge increase in demand for support services and changes to how those services are delivered, and many may not have the capacity or expertise to plan ahead for life after COVID-19.
Based on this insight, we hosted a second virtual meeting focused on the fundamentals of organisational sustainability. Leaders of smaller, service-based organisations were provided with practical tools and guidance to sustain their organisations beyond COVID-19, to help maintain vital services for people living with HIV. During the meeting, the patient organisation representatives were encouraged to think differently about their future organisational structures, and discussed insights around organisational sustainability in the current climate and the implications for HIV charities and patient organisations.
Looking to the future
2020 was an incredibly challenging year for so many people and organisations, but there is no doubt that the power and resilience of the HIV community remains as strong as ever as we move ahead in 2021. While the COVID-19 pandemic is likely to continue to bring profound changes, we know that charities and organisations will continue to find innovative ways to adapt and provide vital services for people living with HIV. We would like to take this opportunity to thank you for all you do for people living with HIV and wish you a Happy New Year.
Whether you want to share your thoughts on HIV Age Positively, the initiatives we ran in 2020 through The HIV Collective, or ask a question about the work we do, we'd like to hear from you.
Get in touch with one of the HIV Age Positively team at HIVAgePos@90ten.co.uk
Document number: UK-HIV-2020-09-0119
Date of preparation: January 2021
1NNLM. Health Literacy. https://nnlm.gov/initiatives/topics/health-literacy. Last accessed January 2021.
2 The Telegraph. Dr Google will see you now: Search giant wants to cash in on your medical queries. Available at: https://www.telegraph.co.uk/technology/2019/03/10/google-sifting-one-billion-health-questions-day/. Last accessed January 2021.
3University of Cambridge. "Pay the wi-fi or feed the children": Coronavirus has intensified the UK's digital divide. Available at: https://www.cam.ac.uk/stories/digitaldivide. Last accessed January 2021.
4Office for National Statistics. Exploring the UK's digital divide. Available at: https://www.ons.gov.uk/peoplepopulationandcommunity/householdcharacteristics/homeinternetandsocialmediausage/articles/exploringtheuksdigitaldivide/2019-03-04. Last accessed January 2021.
5Peek N, Sujan M, Scott P. Digital health and care in pandemic times: impact of COVID-19 BMJ Health & Care Informatics. 2020;27:e100166. doi: 10.1136/bmjhci-2020-100166
6Deloitte. Realising digital-first primary care. Available at: https://www2.deloitte.com/content/dam/Deloitte/uk/Documents/life-sciences-health-care/deloitte-uk-shaping-the-future-of-uk-healthcare-feb-2020.pdf. Last accessed January 2021.
7NHS England. Digital First Primary Care. Available at: https://www.england.nhs.uk/gp/digital-first-primary-care/. Last accessed January 2021.
8Gov.Wales. Digital services introduced in NHS Wales during coronavirus are here to stay. Available at: https://gov.wales/digital-services-introduced-nhs-wales-during-coronavirus-are-here-stay. Last accessed January 2021.
9The Lasting Difference. Tools for organisational sustainability. 5th edition. Available at: https://www.thelastingdifference.com/resources/. Last accessed January 2021.